Landscape Construction & Excavation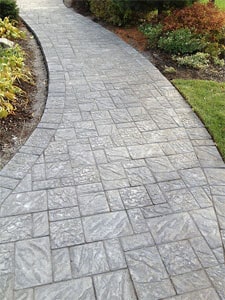 The construction aspect of landscaping is probably the most permanent part of a project. Therefore it is very important to carefully adhere to and ensure quality standards.
Whether the project calls for flagstone or lockstone, a driveway, walkway or a step system, proper preparation of the site is key to a successful project. Drainage considerations must be evaluated and strategies implemented to prevent water issues from occurring in the future. For installation of lockstone, we excavate at least 6-8 inches and fill with compacting aggregate. Then using machinery, we tamp the aggregate to 100% compaction. This process is crucial in preventing winter damage and adding longevity to your project. As a value-added service, instead of using the typical inexpensive play sand, we then use Polymeric sand (a sand and mortar mix) to seal the lockstone cracks, which discourages weed growth.
Retaining Walls
Retaining walls not only provide essential separation between soil and other terrain, but also add a decorative element to both residential and commercial areas. Retaining walls can be made from various materials, including concrete, armour stone, brick and more. If properly installed, retaining walls seamlessly blend within the surrounding environment, adding both function and beauty. Our landscaping crews have the skill and keen eye to make it happen.
Interlocking Bricks
Balancing infrastructure with the surrounding greenery is essential for producing a welcoming environment. Interlocking brick is an excellent means of adding a unique yet clean and professional look to any residence or business. Ideal for driveways, walkways, patios and more, interlocking brick is a great way to add beauty to your surroundings, and our team has the tools and skill to bring that charm to your property.
Flagstone
Flagstone is an excellent choice for property owners interested in adding a unique, artistic details to their landscape. This natural product comes in square or random cut, and when finished, leaves a clean surface that is as pleasing to the eye as it is one of a kind. Flagstone can be installed through two methods: dry lay or wet lay. While both methods provide an adequate finish, wet lay is more durable as it uses a concrete base with mortar in between stones. We have the ability to use either means depending on your preference.
Armour Stone
Armour stones are large, rough cut stones used to accent outdoor spaces. Their look is strong, natural and definitive. Thanks to its robustness, armour stone can withstand the harsh elements of various environments. Their versatility adds presence to gardens, retaining walls, water fountains, walkways and privacy walls. Armour stone can also be cut from different stone types, providing a unique look and feel to your landscape. With our in-depth landscaping experience, we can utilize armour stone to bring your property the rustic aesthetic your property needs.
Decorative Concrete
Concrete is a standard choice for various infrastructure needs. While its clean look matches virtually any landscape, many homeowners wish to add more life to their concrete structures. Impressed concrete is the best way to go. This decorative concrete is mixed with coloured pigment to achieve a look all your own. With a variety of colours to choose from, our experienced staff can help find the right colour for your concrete.
---
Excavation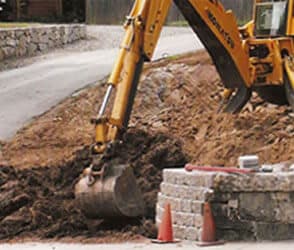 We can provide a wide variety of machinery for all of your large or small excavation projects. Some services include but are not limited to:
Precision Grading and Drainage
Driveway Grading
Pipe and Culvert Installation
Rough and Final Grading
Pools and Pool Fill-Ins
Tree and Stump Removal
Road and Trail Preparation
Lot Clearing
---

Serving the Markham, Richmond Hill, Vaughan, Ballantrae, Unionville, Stouffville, Aurora, Oak Ridges, Thornhill, Bethesda, Gormley, Uxbridge, Port Perry, Ajax & Pickering areas.