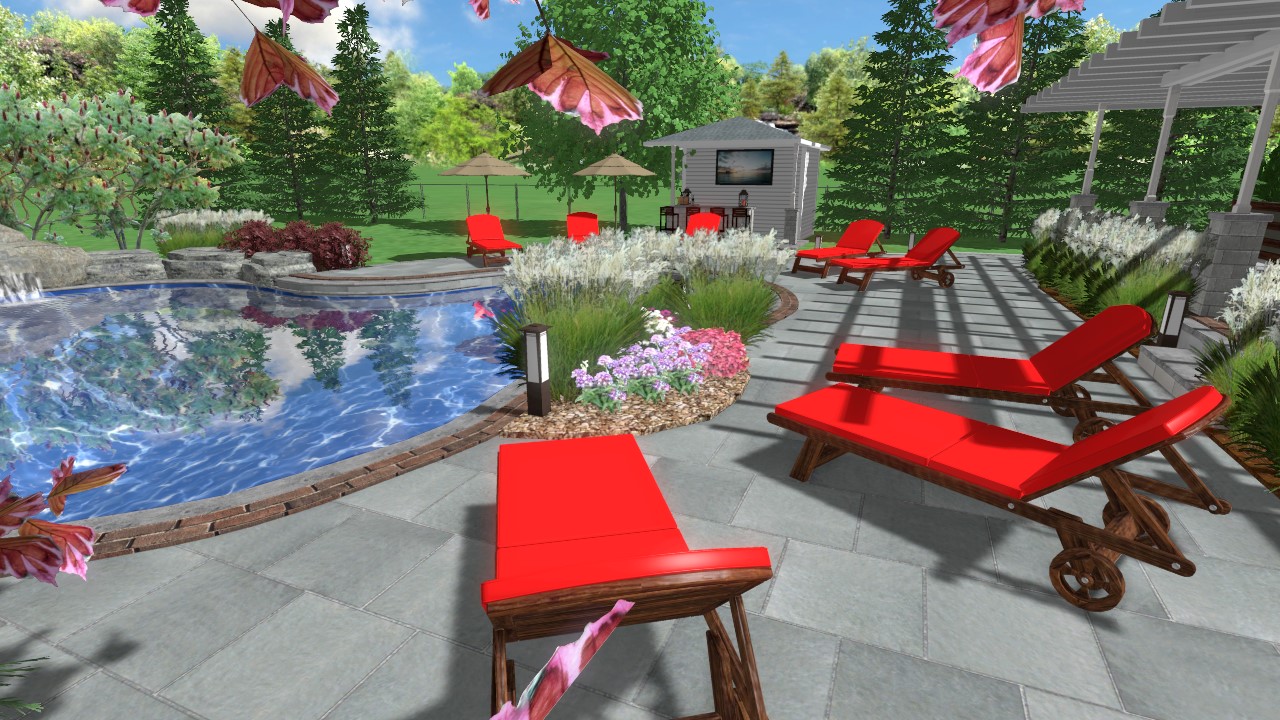 Landscape Design
Your home is supposed to be your castle; the place that you can go to just get away from the outside world for a little while and relax. But when you arrive home from a long day of work, are you happy to see your property when it first comes into view? Does your landscape enhance the first impression your property gives off, or does it just remind you that more needs to be done to make your house into a home?
If you think more needs to be done, you have come to the right place. Dutch Style Landscaping has many years of experience helping design and implement landscape ideas.
Choose to enhance your landscape
We all know that curb appeal is very important if you are looking to sell your home, but having a well-designed and maintained landscape is important many other reasons. A well-designed landscape maximizes the usability of your green space to gain the right balance of visual appeal and operational area. A properly performed landscape project will also clearly show where your property ends and where your neighbor's begins, and can also make your property more serene as plants and trees absorb ambient noise. Absorbing ambient noise is also important if you are looking to host a gathering – perhaps to show off your new landscape design.
Kick Back & Relax While Your Property is Transformed from Mundane to Magnifico!
How do we make sure that your landscape experience is stress-free?(Picture)
We are available throughout the entire project, from landscape design to construction to completion, addressing all your questions and concerns.
Our landscape construction crew is hard working.
Your property will always be left neat at days end and at the completion of your landscaping project
You can expect all the courtesies that come with being thankful for your business: good communication, treating your property with respect and standing behind our workmanship.
Whether you are a home or a business, having an attractive landscape just simply makes your property more inviting. If you have been considering upgrading your green space, then contact Dutch Style Landscaping for a consultation.
The Process



Consultation

What do you envision? How do you want to use your space? We'll start the whole process by discussing these and other questions. We can then offer further ideas to make it all come together beautifully.




Design Concept

If you're happy with the outcome of our consultation, we'll start planning your landscape project. The Design Concept is where creative ideas translate into a working reality. We will take site measurements, discuss the overall picture, including elevations, easements and any obstacles, and deliver a visual of your landscape project with the components itemized and a clear idea of the cost.




Final Drawings & Plan

After the design details and proposal have been approved, we will finalize the drawings for installation. We will advise you on when locates and municipal applications are needed. We will also work
out an agreeable timeline with you and schedule in any specialty trades, like gas, electrical and pool & spa contractors, where required for your project.




Construction

We will arrive at the site to get started. Extra space for vehicles or bins will have been worked out with you previously. The project manager will keep you informed on our progress. Please feel free to ask questions or air any concerns.

Dutch Style will get the job done completely and without a hitch. Our construction crews work hard on every project to make it an impressive and stress-free one. Once we start your landscaping project, we stay until the job is finished.
---

Serving the Markham, Richmond Hill, Vaughan, Ballantrae, Unionville, Stouffville, Aurora, Oak Ridges, Thornhill, Bethesda, Gormley, Uxbridge, Port Perry, Ajax & Pickering areas.