Lawn fertilization helps maintain a healthy lawn
Lawn fertilization is an important aspect of the overall success of your landscape. Turf and plant fertilization helps maintain a healthy lawn and promotes the overall health of your property. A healthy lawn means a more robust environment that makes your lawn stronger and less susceptible to disease. In addition, plant fertilization can provide new tree plantings with valuable nutrients which are necessary to ensure a healthy environment.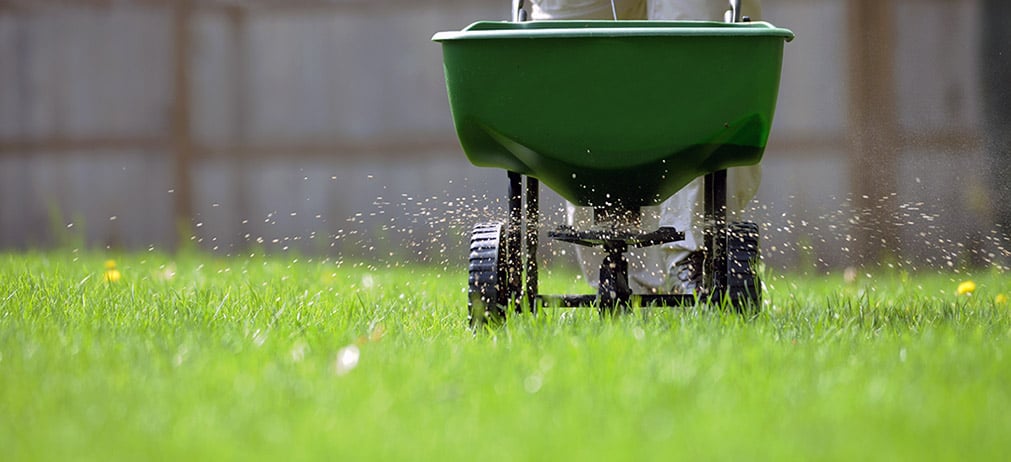 Do you want the thickest lawn and healthiest plants possible?
Dutch Style Landscaping can help you make smart choices for your lawn and garden so it can flourish.
Fertilizer is not plant food. Fertilizers are concentrations of elements which, when added to the soil or water, are then available for plants to use and make their own food. When to fertilize, with what and how are commons questions. It is important to look at the overall scheme of things in order to make the proper decisions on these questions. Dutch Style Landscaping will assess your property and make a plan for fertilizing all your plants and lawn depending on their individual needs.
Dutch Style Landscaping employs trained professionals that can help you build the perfect lawn and plant fertilization program that best matches your needs, on a budget you can afford, ensuring the beauty and health of your garden or lawn.
How many applications are required?
Our professional staff will provide three fertilizer applications to your lawn during the growing season: spring, summer and fall. We recommend withholding application of fertilizer to a lawn that is experiencing stress from prolonged periods of summer heat and drought. For our cool season fertilization we may recommend dethatching and re-seeding.
Our Pro-Active Lawn Program provides necessary nutrients, pre-emergent for crabgrass and post-emergent for weeds. It also treats below the surface for efficient grub control that can protect your landscape.
---

Serving the Markham, Richmond Hill, Vaughan, Ballantrae, Unionville, Stouffville, Aurora, Oak Ridges, Thornhill, Bethesda, Gormley, Uxbridge, Port Perry, Ajax & Pickering areas.